WHAT CAN WE DO FOR YOU OR YOUR ORGANISATION?
INDIVIDUAL SPACE.
COLLECTIVE SPACE.
Whatever your situation, we all need space.
Your organisation may be expanding, or your family may be growing. You may simply want a change to make things work better.
At all levels in the physical & built environment, a professionally-qualified architect has all the credentials required to tailor your requirements into the living, breathing embodiment of your idea.
Kevin O'Brien Architects was established in Peterhead in July 2013 with the aim of becoming North-East Scotland's most progressive and client-focussed professional architectural practice.
With projects spread across Aberdeen City & Shire, our young practise is gaining a reputation for delivering cost-effective and environmentally sustainable designs within tight timescales and realistic budget considerations.
Services: Kevin O'Brien
Architects
Whether you are looking for tradition or innovation, boldness or understatement, an architect can lift your project out of the ordinary.
Kevin O'Brien Architects is young, progressive and client-focussed RIAS Chartered Practice working under the established professional standard for architects which is the 2019 RIBA Plan of Work ensuring our clients receive a service carried our with all reasonable skill and care of an Architect.
All of our new projects include a free consultation in order to establish the parameters of your work instruction and to provide a design brief and work scope.
Our core services include, but are not limited to:
Options Appraisals
Planning Applications & Building Warrants
Domestic New-Build, Extension & Alteration
Urban Design & Masterplanning
Residential Developments
Commercial Developments and Refurbishments
Industrial & Agricultural Units and Developments
Community & Educational Projects
Sports Facilities & Stadia
And everything else in between
Many people may offer to alter your building. It takes an architect to maximise its potential and to do it with flair, imagination and style. When you use a chartered architect you are employing someone who has undertaken seven years of professional training, the longest in the building industry. Anyone styling themselves 'building consultant', 'architectural designer', 'plan drawer' and so on is unlikely to be an architect, and does not have comparable skills or knowledge. Our greatest reward is to see our clients enjoying the fruits of our labour in their completed building.
Projects: Kevin O'Brien
Architects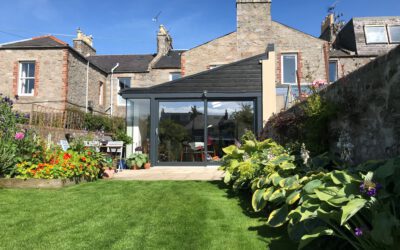 Domestic Extension, Aberdeen This project in Aberdeen's West End was to remove a ubiquitous granite & brick coal shed and replace with an enlarged kitchen & family space. Being a terraced property with strict planning policy restrictions, our challenge was to...